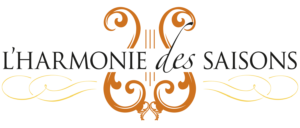 Ensemble vocal et instrumental
avec invités internationaux
L'Harmonie des saisons, the vocal and period-instrument ensemble, is dedicated through the expertise of its members to re-introducing audiences to the grand masterpieces of historic sacred music, principally through its series of large-scale performances. Based in the heart of the Eastern Townships region,
the ensemble performs frequently throughout Quebec, Canada, the United States, South America, and Europe.
The ensembles growing discography (six CD releases so far) has been awarded Juno and Opus prizes, and garnered numerous critically acclaimed reviews. Each of their recordings has been described by CBC/Radio-Canada as among the most distinguished recordings produced in Canada. Apple Music named their Marin Marais : Badinages recording an international classical selection of the year, with more than 1.5 million downloads from their platform. Their most recent album Solfeggio with soprano Hélène Brunet, is a Juno 2022 nominee. Upcoming releases include Concerti of  J. S. Bach, Concerti of A. Vivaldi and Arias of J. S. Bach (with tenor Philippe Gagné.)
In recent seasons the Ensemble offers its performances on regional tours, collaborating with presenters who are passionate about sharing wonderful performances of this repertoire. This season, the ensemble has been presented by the Montreal Bach Festival in performance of Bach's Magnificat, by Ad Litteram/ATMA Classique in a tour of Handel's Messiah, by Music and Beyond in Ottawa as part of their tour of Bach's St. John Passion last March. This program is presented in collaboration with the Arte Musica Foundation of the Montreal Museum of Fine Arts, as part of their complete cycle of cantatas by J.S. Bach. The directors of the Ensemble have also been invited this spring as guest artists at New York's Carnegie Hall with The Orchestra of St. Luke's and Montreal's Symphonic Hall with the Montreal Symphony in performances of Bach's St. Matthew Passion.
[clients slide_show= "0" slide_show_speed= "4000" hide_in= "" css_id= "" css_classes= "" animate= "1" animation_type= "none" animation_delay= "0" animation_duration= "300" padding= '{"d":""}' margin= '{"d":""}' border_style= '{"d":"solid","l":"solid","t":"solid","m":"solid"}' border= '{"d":""}' border_color= "" border_radius= "" box_shadow= "0px 0px 0px 0px rgba(0,0,0,0)" key= "r1f7gMJ82X"][client image= "https://www.harmoniedessaisons.org/wp-content/uploads/2018/10/Ville-de-Ganby-Harmonie-de-saisons-2.png" link= "" new_tab= "1" default_image_style= "color" hover_image_style= "color" hide_in= "" css_id= "" css_classes= "" animate= "1" animation_type= "none" animation_delay= "0" animation_duration= "300" padding= '{"d":""}' margin= '{"d":""}' border_style= '{"d":"solid","l":"solid","t":"solid","m":"solid"}' border= '{"d":""}' border_color= "" border_radius= "" box_shadow= "0px 0px 0px 0px rgba(0,0,0,0)" key= "rk7QefkU27"][/client][client image= "https://www.harmoniedessaisons.org/wp-content/uploads/2018/10/Conseil-des-arts-et-des-lettres-du-Québec-Harmonie-des-saisons.png" link= "" new_tab= "1" default_image_style= "color" hover_image_style= "color" hide_in= "" css_id= "" css_classes= "" animate= "1" animation_type= "none" animation_delay= "0" animation_duration= "300" padding= '{"d":""}' margin= '{"d":""}' border_style= '{"d":"solid","l":"solid","t":"solid","m":"solid"}' border= '{"d":""}' border_color= "" border_radius= "" box_shadow= "0px 0px 0px 0px rgba(0,0,0,0)" key= "rJ4mxf1I3m"][/client][client image= "https://www.harmoniedessaisons.org/wp-content/uploads/2018/10/Conseil-des-arts-du-Canada-Harmonie-des-saisons.png" link= "" new_tab= "1" default_image_style= "color" hover_image_style= "color" hide_in= "" css_id= "" css_classes= "" animate= "1" animation_type= "none" animation_delay= "0" animation_duration= "300" padding= '{"d":""}' margin= '{"d":""}' border_style= '{"d":"solid","l":"solid","t":"solid","m":"solid"}' border= '{"d":""}' border_color= "" border_radius= "" box_shadow= "0px 0px 0px 0px rgba(0,0,0,0)" key= "rJBmeG183X"][/client][client image= "https://www.harmoniedessaisons.org/wp-content/uploads/2018/10/Fondations-Townshippers-Harmonie-des-saisons-2.png" link= "" new_tab= "1" default_image_style= "color" hover_image_style= "color" hide_in= "" css_id= "" css_classes= "" animate= "1" animation_type= "none" animation_delay= "0" animation_duration= "300" padding= '{"d":""}' margin= '{"d":""}' border_style= '{"d":"solid","l":"solid","t":"solid","m":"solid"}' border= '{"d":""}' border_color= "" border_radius= "" box_shadow= "0px 0px 0px 0px rgba(0,0,0,0)" key= "Hk8Qxz1L2m"][/client][client image= "https://www.harmoniedessaisons.org/wp-content/uploads/2018/10/Musicaction-Harmonie-des-saisons.png" link= "" new_tab= "1" default_image_style= "color" hover_image_style= "color" hide_in= "" css_id= "" css_classes= "" animate= "1" animation_type= "none" animation_delay= "0" animation_duration= "300" padding= '{"d":""}' margin= '{"d":""}' border_style= '{"d":"solid","l":"solid","t":"solid","m":"solid"}' border= '{"d":""}' border_color= "" border_radius= "" box_shadow= "0px 0px 0px 0px rgba(0,0,0,0)" key= "HywmgfkU27"][/client][/clients]