Antonio Vivaldi
Flamboyants concertos
avec le guitariste David Jacques
Eric Milnes, direction and harpsichord
David Jacques, guitars and lute
Julia Wedman, Guillaume Villeneuve, Marie Nadeau-Tremblay,
Jessy Dubé & Jimin Dobson, violins
Hélène Plouffe, viola and viola d'amore
Mélisande Corriveau, cello and recorder
Felix Deak, cello
Pierre Cartier, doublebass
Friday July 1st 2022, 7:30 pm
St. Patrice Church, MAGOG
L'Harmonie des saisons is awarded a 2nd JUNO prize!!!
Solfeggio

CLASSICAL MUSIC ALBUM OF THE YEAR
(LARGE ENSEMBLE)
Featuring Hélène Brunet, Soprano
Eric Milnes & Melisande Corriveau, Directors
What a joy, what an honnor to receive this prestigious distinction!
Whole hearted thanks to our artistic team! Thanks to ATMA Classique, to the Councils of the arts of Quebec and Canada, and to our generous donors who made this project come to life!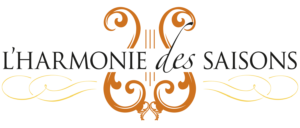 Founded in 2010 by  co-directors Mélisande Corriveau and Eric Milnes, ensemble L'Harmonie des saisons inspires audiences with its fresh and unique musical approach. After presenting forty different programs in over 150 concerts, the ensemble, which performs on period instruments, continues to expand its acclaim throughout Quebec, Canada and abroad. Their recordings on the ATMA Classique label – Las Ciudades de Oro, Pardessus de viole and Marin Marais : Badinages – have been the recipients of the coveted JUNO prize, the Prix Opus, Radio-Canada's Recording of the Year, among the CBC's Top Ten CDs of the Year, and made the Apple Music prestigious TOP Ten Classical Recording list. The ensemble, alongside international guest artists, hosts a prestigious series of concerts and has been featured at international series' and festivals across Europe, North and South America.
Abonnez-vous à notre
Infolettre